Representatives of "PROTON-ELECTROTEX" took part in forum "MICROELECTRONICS – 2023"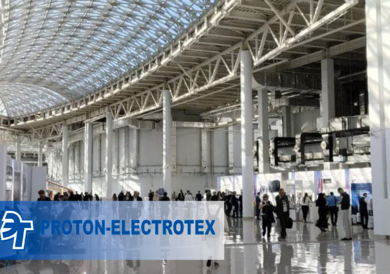 Representatives of Proton-Electrotex JSC took part in the Microelectronics 2023 forum, which was held in Sochi from October 9 to 14.
About the forum
The Microelectronics Forum is one of the leading interindustry platforms in Russia. In 2023, the forum brought together more than 2,400 participants from 845 companies.
The 9th Microelectronics forum was held in a part-time format using the latest digital technologies.
The organizers were JSC NIIME and JSC NIIMA Progress with the support of the Ministry of Industry and Trade of the Russian Federation, the Ministry of Science and Higher Education of the Russian Federation.
The forum has become a platform for interaction between specialists from various industries, developers of electronic components and manufacturers of finished products.
Business program
The business program of the event included several pre-conferences held in Moscow and Zelenograd, as well as a scientific conference in Sochi, an exhibition of the achievements of modern unique technologies and developments, and a School of Young Scientists.
Forum participants discussed issues of promoting the integration of Russian manufacturers into innovative projects to ensure accelerated digital development.
The use of modern global electronic technologies will allow business and science to stimulate further development of the industry.
Representatives of Proton-Electrotex JSC attended the forum with the aim of expanding partnerships, as well as searching for innovative technologies for business development.
The technical director of Proton-Electrotex JSC made a report at the forum on the topic: "Power semiconductor devices as one of the basic elements shaping technological shifts in the modern world."
The report emphasized the relevance of the problems of development of the microelectronics industry in the modern world and the need to support the development and production of power semiconductor devices in Russia and the world.
About Proton-Electrotex, JSC:
Proton-Electrotex is the Russian leader in designing and manufacturing power semiconductors including diodes, thyristors and IGBT modules as well as heatsinks, voltage suppressors, resistors and measurement equipment. The company is located in Orel city and ships its products through its partners and distributors all over the world. Please visit website www.proton-electrotex.com for more details about Proton-Electrotex and its offer of products and services.
For further information please contact:
Press contact at Proton-Electrotex
Tel.: +7 (4862) 44-04-56
E-Mail: marketing@proton-electrotex.com