Specifics of using IGBT modules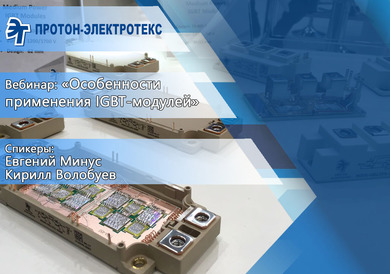 Dear Colleagues,
We are glad to inform you that Proton-Electrotex is now preparing a webinar "Specifics of using IGBT modules" for you.
The webinar will cover the following topics:
Types and scope of IGBT modules testing
Correct comparison of parameters and characteristics of IGBT modules
Calculation of losses in IGBT modules
Estimating the duration of the dead time
FAQ: climatic conditions, features of various switches, use of a thermistor, correlation between parameters
After attending this webinar you will know in detail about the product line of IGBT modules made by Proton-Electrotex, the process of testing power semiconductor devices, the main parameters and rules of using these devices.
The event will be held in Russian on September 23rd. The date of the webinar in English will be announced shortly.
Follow the news on our website and social networks!
About Proton-Electrotex, JSC:
Proton-Electrotex is the Russian leader in designing and manufacturing power semiconductors including diodes, thyristors and IGBT modules as well as heatsinks, voltage suppressors, resistors and measurement equipment. The company is located in Orel city and ships its products through its partners and distributors all over the world. Please visit website www.proton-electrotex.com for more details about Proton-Electrotex and its offer of products and services.
For further information please contact:
Press contact at Proton-Electrotex
Tel.: +7 (4862) 44-04-56
E-Mail: marketing@proton-electrotex.com