Update of datasheets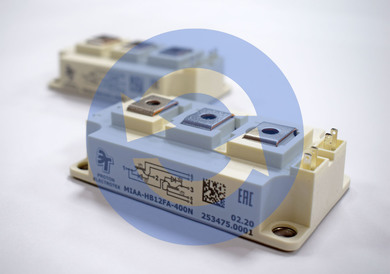 In October we have updated the datasheets of the following power semiconductor devices:
Some Features of IGBT Modules are manufactured by Proton-Electrotex:
Increased operating temperature
Low total dynamic losses
Low saturation voltage
Effective switching frequency
Improved resistance to thermal cycling
ROHS compliance
The IGBT manufacturing process of Proton-Electrotex is certified for compliance to ISO 9001, ISO 14001, EcoVadis standards and has passed audit by the world's leading companies.
High performance, reliability and durability make the IGBT modules a good choice for using in industrial drives, servo systems, electric transport, renewable energy, UPS, power grids and railroad transport.
In addition, Proton-Electrotex offers wide opportunities for products customization according to each customer's requirements for technical specifications, connections and appearance of devices.
Please contact the sales department for advice or leave your request online.
About Proton-Electrotex, JSC:
Proton-Electrotex is the Russian leader in designing and manufacturing power semiconductors including diodes, thyristors and IGBT modules as well as heatsinks, voltage suppressors, resistors and measurement equipment. The company is located in Orel city and ships its products through its partners and distributors all over the world. Please visit website www.proton-electrotex.com for more details about Proton-Electrotex and its offer of products and services.
For further information please contact:
Press contact at Proton-Electrotex
Tel.: +7 (4862) 44-04-56
E-Mail: marketing@proton-electrotex.com