Modules C1 have successfully passed UL certification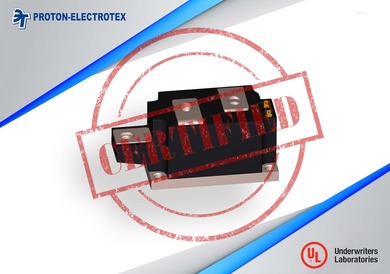 We are glad to inform, that modules C1 manufactured by Proton-Electrotex have passed Underwriters Laboratories certification.
It means that all product line of the thyristor and diode modules manufactured by Proton-Electrotex are now UL certified with full compliance to the international standard requirements.
UL Certification allows a company to innovate its safety standards and align with industry-wide best practices. UL certification proves consumer safety, as well as the quality of products.
Proton-Electrotex is constantly working on improvement of the quality and safety of the products to meet the needs of its customers as much as possible. UL certification confirms that the manufacturing processes, service and documentation procedures meet all the requirements for quality assurance and safety.
About UL certification:
Services include certification of personnel, products, facilities, processes and systems to applicable standards and requirements. Main mission is to promote safe living and working environments for people, to support the production and use of products which are physically and environmentally safe, to advance safety science.
About Proton-Electrotex, JSC:
Proton-Electrotex is the Russian leader in designing and manufacturing power semiconductors including diodes, thyristors and IGBT modules as well as heatsinks, voltage suppressors, resistors and measurement equipment. The company is located in Orel city and ships its products through its partners and distributors all over the world. Please visit website www.proton-electrotex.com for more details about Proton-Electrotex and its offer of products and services.
For further information please contact:
Press contact at Proton-Electrotex
Tel.: +7 (4862) 44-04-56
E-Mail: marketing@proton-electrotex.com