Our website is updated with a «For Suppliers» page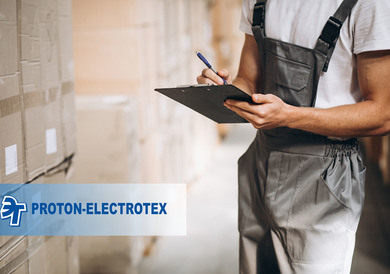 We are glad to announce that the official website of Proton-Electrotex now includes a section "For suppliers".
JSC "Proton-Electrotex" is constantly expanding the list of its reliable partners. We understand that to implement the sustainable procurement, it is necessary to share with partners the desire to maintain sustainable supply chains at all levels.
This page contains latest information about advantages of working with JSC «Proton-Electrotex», and how to become a supplier.
The new section is available at this URL: https://en.proton-electrotex.com/suppliers
In the process of cooperation, our partners have the opportunity to get involved in the process of development of high-quality power semiconductor devices, and also to minimize risks due to the economic stability of JSC «Proton-Electrotex». You will have the opportunity to consistently improve the quality of the supplied products by using the extensive experience of JSC «Proton-Electrotex» specialists.
If you have any questions, comments or need additional information, please contact us by e-mail: marketing@proton-electrotex.com or via the contact form on the website.
About Proton-Electrotex, JSC:
Proton-Electrotex is the Russian leader in designing and manufacturing power semiconductors including diodes, thyristors and IGBT modules as well as heatsinks, voltage suppressors, resistors and measurement equipment. The company is located in Orel city and ships its products through its partners and distributors all over the world. Please visit website www.proton-electrotex.com for more details about Proton-Electrotex and its offer of products and services.
For further information please contact:
Press contact at Proton-Electrotex
Tel.: +7 (4862) 44-04-56
E-Mail: marketing@proton-electrotex.com