Proton-Electrotex will take part in International exhibition - Power Electronics 2020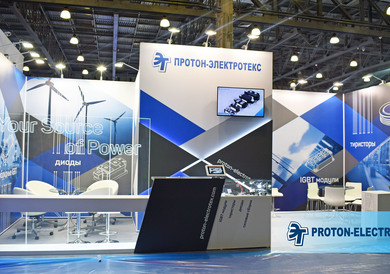 Poton-Electrotex will take part in International exhibition of power electronics components and modules - PowerElectronics 2020.
The Power Electronics exhibition will be held in Crocus Expo, Moscow on 27-29 of October 2020.
Power Electronics exhibition is in the only in Russia specialized exhibition of power electronics components and systems for various industries.
Proton-Electrotex traditionally presents its latest research and new products there. Besides, we showcase samples of existing portfolio already known to our customers. All visitors of the exhibition will have an opportunity to talk to representatives of the company's management, engineering team, customer support, purchasing, sales and marketing departments.
You can find us here:
New business programme 2020:
Discussion club: new applications of power electronics
Open technical and educational seminars of exhibitors
«The Best Developments of Young Researchers and Engineers in the field of Power Electronics» annual contest
We prepared a special gift for our subscribers! With this promo-code you can visit the exhibition for free! Promo-code: SE2-proton
You can activate it on official site: https://www.powerelectronics.ru/en-GB/visitors/e-ticket.aspx
To schedule a meeting with our representatives or ask a question please send an email to marketing@proton-electrotex.com or by special page.
About exhibition «Power Electronics»:
Exhibition "Power Electronics" is the only tradeshow in Russia focused on power electronic components and systems for various industries.
Its participants are the leading Russian and foreign suppliers of power electronic components and systems, including power semiconductor components, passive components, auxiliary power sources, power converters, control and measurement equipment.
About Proton-Electrotex, JSC:
Proton-Electrotex is the Russian leader in designing and manufacturing power semiconductors including diodes, thyristors and IGBT modules as well as heatsinks, voltage suppressors, resistors and measurement equipment. The company is located in Orel city and ships its products through its partners and distributors all over the world. Please visit website www.proton-electrotex.com for more details about Proton-Electrotex and its offer of products and services.
For further information please contact:
Press contact at Proton-Electrotex
Tel.: +7 (4862) 44-04-56
E-Mail: marketing@proton-electrotex.com