Proton-Electrotex JSC will take part in the main annual event in the industry of power electronics – PCIM Europe 2020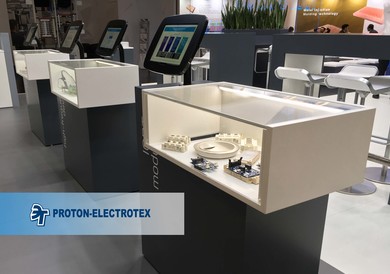 As we reported earlier, this year the exhibition will be held in a new digital format due to the spread of COVID-19. It will be held from July 7 to July 8, 2020.
PCIM Europe is an excellent platform for speakers from various countries to present their reports on the latest trends and researches in the field of power electronics. Organizers are planning numerous presentations and virtual round tables on related topics. Forum participants will have an opportunity to meet exhibitors and speakers in person and ask them any questions of interest.
The two-day forum will feature more than 270 reports on topics related to power semiconductor devices, electric vehicles, current and future R&D projects, analysis and forecasts of where and how the power electronics industry will develop in future.
The Proton-Electrotex company will support this event. All visitors of the virtual exhibition will have an opportunity to talk to representatives of the company's management, engineering team, customer support, purchasing, sales and marketing departments. Visitors will also have access to the virtual booth of Proton-Electrotex showing the company's product line.
R&D engineer of Proton-Electrotex Dmitry Titushkin will make a report "Increasing the Power of Thyristor Modules with a Base Width of 60 mm". The time and date of the report will be announced in the near future.
More detailed information about PCIM Europe 2020 can be found on the organizers' official website, while the complete list of events attended by Proton-Electrotex can always be found on the Calendar page.
More details about the exhibition will be shared in the near future so please follow the news on the official website of Proton-Electrotex and our social networks.
About Proton-Electrotex, JSC:
Proton-Electrotex is the Russian leader in designing and manufacturing power semiconductors including diodes, thyristors and IGBT modules as well as heatsinks, voltage suppressors, resistors and measurement equipment. The company is located in Orel city and ships its products through its partners and distributors all over the world. Please visit website www.proton-electrotex.com for more details about Proton-Electrotex and its offer of products and services.
For further information please contact:
Press contact at Proton-Electrotex
Tel.: +7 (4862) 44-04-56
E-Mail: marketing@proton-electrotex.com