Proton-Electrotex Launches МТ3-700-18-А2 Thyristor Modules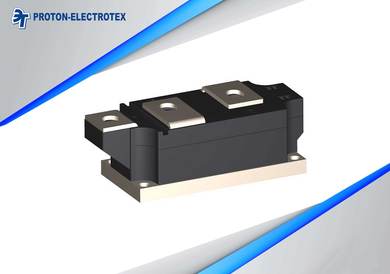 Proton-Electrotex is happy to announce the launch of a new thyristor and thyristor-diode modules МТ3-700-18-А2 with increased power density.
This module is based on its predecessor МТ3-540-18-А2. The higher power density was achieved by upgrading the semiconductor element with minimal changes to other design elements. Specifically, the module was designed with a new topology increasing the active cathode area by 10%, reduced thickness of the diffusion element and improved diffusion profile.
The extensive research and testing program behind these changes allowed to achieve previously unavailable parameters. The new module features lower losses in open state, lower thermal junction-case resistance, and higher surge current. Mean current in open state ITAV increased by 20% to 700A. Repetitive peak off-state and reverse voltage VDRM/ VRRM values are 1400-1800 V.

The complete technical specifications are as follows:
| | |
| --- | --- |
| VDRM/ VRRM [V]: | 1400-1800 |
| IFAV/ITAV (Tс,°C) [A]: | 700(80) |
| VFM/VTM (Tc=25°С) [V]: | 1.65 |
| IFM/ITM (Tc=25°С) [A]: | 2198 |
| VT(TO)/Tjmax [V]: | 0.8 |
| rT/Tjmax [mΩ]: | 0.35 |
| tq [μs]: | 250 |
| Tjmax [°С]: | 130 |
| Rthjc [°С/W]: | 0.051 |
| Package: | M.A2 |
| Baseplate width/length [mm]: | 60/124 |
| Design: | dual component |
| Configuration: | thyristor-thyristor, thyristor-diode |
Datasheet for the new module is available here. If you would like to receive more information, request a quotation or ask for a technical advice, please contact our sales department by phone +7 4862 440456 or email marketing@proton-electrotex.com.
About Proton-Electrotex, JSC:
Proton-Electrotex is the Russian leader in designing and manufacturing power semiconductors including diodes, thyristors and IGBT modules as well as heatsinks, voltage suppressors, resistors and measurement equipment. The company is located in Orel city and ships its products through its partners and distributors all over the world. Please visit website www.proton-electrotex.com for more details about Proton-Electrotex and its offer of products and services.
For further information please contact:
Press contact at Proton-Electrotex
Tel.: +7 (4862) 44-04-56
E-Mail: marketing@proton-electrotex.com