Launch of B0 Diode and Thyristor Modules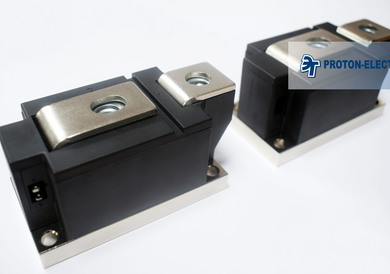 The team of Proton-Electrotex is happy to announce the launch of serially produced single-component diode and thyristor modules B0.
The design of B0 modules provides improved electrical and thermal parameters allowing to achieve IFAV / ITAV values up to 700 A. The VDRM / VRRM voltage range varies from 1000 to 6500V.
At the same time, new modules have an industry standard housing with a baseplate width of 50 mm making it easier to use them in existing equipment.
The B0 series has the following main features:
clamping module design;
industry standard housing;
insulated baseplate with isolation voltage up to 7kV AC (50Hz, 1 min.)
The modules are designed for use in energy converters, as well as other DC and AC circuits of various power electrical units. The main applications of the B0 modules are the electric drive control systems, rectifier bridges, AC controls, DC motor control, power supplies. More information and datasheets are published on our website.
Proton-Electrotex offers various options for customization of products, taking into account the individual requirements of each customer to parameters, connections and appearance of the semiconductors.
To discuss the possibility of supplying trial samples and clarify any details, please contact the sales department by phone +7 4862 440456 or email inbox@proton-electrotex.com.
About Proton-Electrotex, JSC:
Proton-Electrotex is the Russian leader in designing and manufacturing power semiconductors including diodes, thyristors and IGBT modules as well as heatsinks, voltage suppressors, resistors and measurement equipment. The company is located in Orel city and ships its products through its partners and distributors all over the world. Please visit website www.proton-electrotex.com for more details about Proton-Electrotex and its offer of products and services.
For further information please contact:
Press contact at Proton-Electrotex
Tel.: +7 (4862) 44-04-56
E-Mail: marketing@proton-electrotex.com