Results of participation in NEVA 2023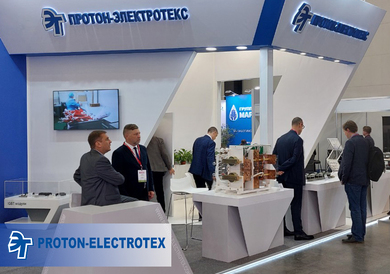 On September 21, 2023, a key industry event – the 17th International Exhibition on Civil Shipbuilding, Shipping, Port Activities and Ocean and Shelf Development NEVA 2023 – came to an end in St. Petersburg.
This year the exhibition had an unprecedented scale and was held in four pavilions of the Expoforum Exhibition Center, where its products and services were widely presented the leading domestic enterprises of the shipbuilding industry, as well as the largest shipyards and manufacturers in India, China and Turkey.
The delegation of Proton-Electrotex, taking part in the event, made the most of the opportunity provided by the organizers to exchange experience and contacts.
Proton-Electrotex presented a number of new products, including the power units based on the semiconductor devices of its own production for the use as a Phase Inverter or a Rectifier for sea and river transportation application.
During the discussion, issues of import substitution and prospects for the development of civil shipbuilding in the Russian Federation.
Visitors of the exhibition were able to talk to the company's specialists and get detailed information about new products and planned research projects.
Key facts and figures of NEVA 2023:
39.937 sq.m. - exposition area

35.000 — visitors

646 – exhibitors
We will be happy to provide more information on our products, please send your questions to email marketing@proton-electrotex.com. Thanks a lot to everyone who gave our booth a visit.
About Proton-Electrotex, JSC:
Proton-Electrotex is the Russian leader in designing and manufacturing power semiconductors including diodes, thyristors and IGBT modules as well as heatsinks, voltage suppressors, resistors and measurement equipment. The company is located in Orel city and ships its products through its partners and distributors all over the world. Please visit website www.proton-electrotex.com for more details about Proton-Electrotex and its offer of products and services.
For further information please contact:
Press contact at Proton-Electrotex
Tel.: +7 (4862) 44-04-56
E-Mail: marketing@proton-electrotex.com