Proton-Electrotex successfully completed the "Made in Russia" certification!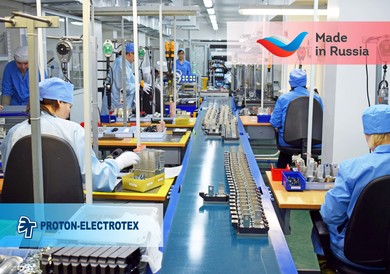 We are glad to share good news with you – Proton-Electrotex successfully passed the "Made in Russia" certification.
The "Made in Russia" symbol expands brand visibility on foreign markets and promotes trust of buyers, customers and partners. An independent audit based on multiple parameters eliminates many risks of working with new subcontractors and warrants their integrity.
Proton-Electrotex joined the system of voluntary certification and labeling "Made in Russia" introduced by the Russian Export Center.
The company successfully passed conformance tests applied to exported products, enabling us to place the "Made in Russia" sign on products or their packaging.
We are grateful to all our colleagues and management always focusing on continued development of production facilities, staff development and business reputation. Results of this hard, complex work allow us to represent Russian exports on international market.
About Russian Export Center (REC):
REC offers a wide range support tools to benefit the Russian exporters explore the foreign markets and build capacity in the global trade. REC also acts as a focal point for interaction with the relevant domestic ministries and agencies.
About Proton-Electrotex, JSC:
Proton-Electrotex is the Russian leader in designing and manufacturing power semiconductors including diodes, thyristors and IGBT modules as well as heatsinks, voltage suppressors, resistors and measurement equipment. The company is located in Orel city and ships its products through its partners and distributors all over the world. Please visit website www.proton-electrotex.com for more details about Proton-Electrotex and its offer of products and services.
For further information please contact:
Press contact at Proton-Electrotex
Tel.: +7 (4862) 44-04-56
E-Mail: marketing@proton-electrotex.com