EPE 2019 in Italy with Proton-Electrotex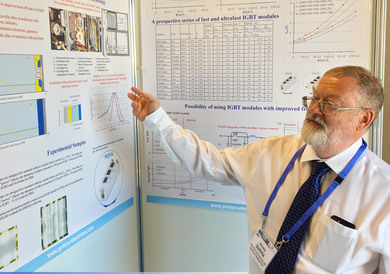 Proton-Electrotex took part in the EPE 2019 Europe Conference. Event was held on September 2-6 in Genoa, Italy.
Researchers, application engineers and experts from academia and industry was met to discuss and exchange ideas on how to manage renewable energies, smart grids, energy storage systems, power electronics, ultrafast vehicle charging stations.
It was a small part of some of the most important topics.
Head of R&D Center A. Surma and Head of marketing department of Proton-Electrotex A. Cherkasov took part in the EPE 2019 with report: «Exploring possibility to improve frequency properties of 1200V and 1700V IGBT and FRD with partially diffused proton beam».
The performance was met with high interest by manufacturers of power semiconductor devices.
The conference was held in a comfortable and working atmosphere in collaboration with the University of Genova. Representatives of Proton-Electrotex held few useful discussions with our clients and international colleagues.
More detailed information about the conference can be found on the official website: http://www.epe2019.com