Update of datasheets for IGBT modules produced by PROTON-ELECTROTEX JSC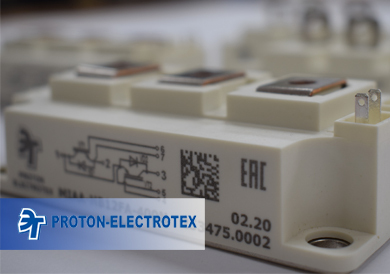 The company's information base is regularly improved so that our clients can operate with up-to-date information.
So, updated information sheets for the following products are available for review:
IGBT modules produced by Proton-Electrotex JSC are used in the field of railway and electric transport, solar and wind power plants, welding equipment, high power converters, uninterruptible power supplies and AC motor drives.
Among the main advantages of IGBT modules of Proton-Electrotex JSC:
- increased operating temperature
- low total dynamic losses
- low saturation voltage values
- Ultrasonic welding of power leads
Thanks to the possibility of customization, our customers can purchase products designed to meet individual technical requirements with control drivers.
Specialists of Proton-Electrotex JSC continuously monitor trends in the modern microelectronics market and improve their products using new technologies.
You can view the full catalog of products of Proton-Electrotex JSC in the catalog on the website.
About Proton-Electrotex, JSC:
Proton-Electrotex is the Russian leader in designing and manufacturing power semiconductors including diodes, thyristors and IGBT modules as well as heatsinks, voltage suppressors, resistors and measurement equipment. The company is located in Orel city and ships its products through its partners and distributors all over the world. Please visit website www.proton-electrotex.com for more details about Proton-Electrotex and its offer of products and services.
For further information please contact:
Press contact at Proton-Electrotex
Tel.: +7 (4862) 44-04-56
E-Mail: marketing@proton-electrotex.com