Proton-Electrotex company wishes everyone a happy new year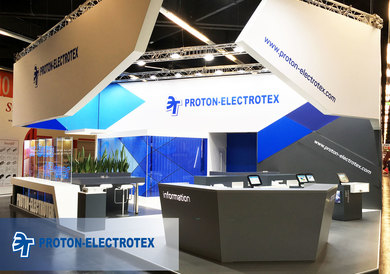 It is a good tradition to sum up the annual results, make forecasts and plans for the future on the eve of the New Year holidays. We had a huge number of very different events in 2022– both good and not so much.
The passing year has shown how it is very important for a company to adapt to circumstances, swiftly change work processes, and be flexible. Thanks to the hard work, responsibility and good decision making of its employees Proton-Electrotex continued full operation, development and improvement of the product quality despite the difficulties.
The activity of Proton-Electrotex in 2022 was noted at various levels. Proton-Electrotex won the Electrosite and Electroreklama International contests of marketing communications.
The R&D engineers Orlov E. and Antonov S. won the first round at the All-Russian competition "Engineer of the Year" in the "Engineering Art of the Young" category.
These results spotlight the talented, creative, and qualified professionals who are among the best in the country who work in Proton-Electrotex.
JSC "Proton-Electrotex" is constantly expanding the list of its reliable partners. We understand that sustainable procurement requires sharing with partners the desire to maintain supply chains at all levels. Therefore, the official website has been updated by a new section for suppliers. This page contains advantages of working with JSC «Proton-Electrotex» and request form for a new supplier.
We successfully have optimized power stacks development process. Today company can design and assemble power stacks customized per individual inquiry. Proton-Electrotex can supply the following types of power stacks:
AC-DC Inverter

AC-DC rectifier

AC switches

Impulse thyristor switches
All power stacks except semiconductor switches can be equipped with snubber circuits, resistive dividers, drivers, current, voltage and temperature sensors.
We aim to be open and honest to our partners and customers. We prepared many interesting unique projects for 2023 which will be useful for you. Please follow future announcements on our website and in social networks.
We would like to thank you for your interest, attention and trust to our business! Best wishes to everyone during one of the most sincere and warm holidays! We wish you prosperity, stable growth, effective projects and success in all you do!
About Proton-Electrotex, JSC:
Proton-Electrotex is the Russian leader in designing and manufacturing power semiconductors including diodes, thyristors and IGBT modules as well as heatsinks, voltage suppressors, resistors and measurement equipment. The company is located in Orel city and ships its products through its partners and distributors all over the world. Please visit website www.proton-electrotex.com for more details about Proton-Electrotex and its offer of products and services.
For further information please contact:
Press contact at Proton-Electrotex
Tel.: +7 (4862) 44-04-56
E-Mail: marketing@proton-electrotex.com