Proton-Electrotex company wishes eveyone a happy New Year!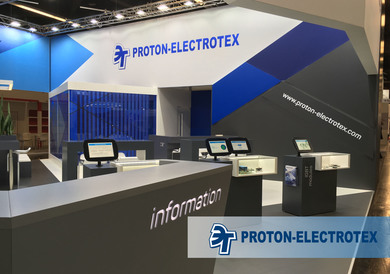 It is a good tradition to sum up the annual results, make predictions and plans for the future on the eve of the New Year holidays. 2020 had a huge number of very different events – both good and not so much.
The past year has shown that it is very important for a company to adapt to circumstances, swiftly change work processes, and be flexible. Thanks to hard work, responsibility and good decision making of its employees Proton-Electrotex continued full operation, development and improvement of the product quality, despite the difficulties caused by the coronavirus pandemic.
The activity of Proton-Electrotex in 2020 was noted at various levels. The company was included in the list of key organizations of the Oryol region having major impact on its economy, employment of the population and the social stability of the Oryol region.
The authoritative rating "TechUp" acknowledged the Proton-Electrotex company as one of the leaders in terms of export volume among all the presented participants. The share of exported power semiconductor devices made by the company reached about 70% of the total amount of manufactured products.
According to the Analytical Center of the Russian Radio-electronic Industry TsNII "Elektronika", Proton-Electrotex reached the third place in the ranking of companies in terms of revenue from the production of semiconductor devices and took the top position in the list of companies in terms of revenue from products and services supplied for export.
Like many others, we focused hard on digital communication, trying to become more open to our partners and customers. In 2020, the company held 8 product webinars. The event visitors had the opportunity to learn about the company's activities and plans, talk directly to engineers and ask any questions. We plan to continue working on this in the future, so follow future announcements on the website and in our social networks.
We want to thank everyone for their interest and attention to what we are doing and, of course, for your trust! Best wishes to everyone during one of the most sincere and warm holidays, we wish you prosperity, stable growth, more projects and success in all you do!
About Proton-Electrotex, JSC:
Proton-Electrotex is the Russian leader in designing and manufacturing power semiconductors including diodes, thyristors and IGBT modules as well as heatsinks, voltage suppressors, resistors and measurement equipment. The company is located in Orel city and ships its products through its partners and distributors all over the world. Please visit website www.proton-electrotex.com for more details about Proton-Electrotex and its offer of products and services.
For further information please contact:
Press contact at Proton-Electrotex
Tel.: +7 (4862) 44-04-56
E-Mail: marketing@proton-electrotex.com