Proton-Electrotex is the Winner of the Exporter of the Year Competition!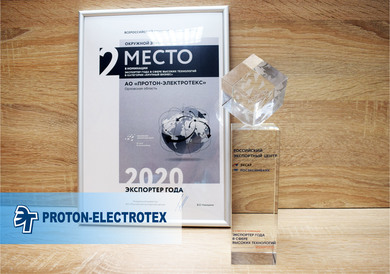 The Proton-Electrotex company took the second place in the regional stage of the all-Russian competition "Exporter of the Year"!
"Exporter of the Year" is a competition aimed at identifying Russian leaders in export-related business and exchanging the experience and practice of international cooperation.
This competition awards organizations that have achieved the greatest success in exporting goods, works, services and intellectual property.
The Proton-Electrotex company took the second place in the nomination "Exporter of the Year in the Field of High Technologies". This award confirms the high quality of manufactured products and competence of the company's employees.
This competition is held to support and develop export-oriented businesses. This is one of the key tools of the Government of the Russian Federation to stimulate local entrepreneurs to enter foreign markets.
The regional stage of the "Exporter of the Year" competition was held by the Oryol Regional Center of Export Support. We express our gratitude to the organizers of the event for the well-planned competition.
About the Exporter of the Year competition:
It is an all-Russian award in the field of international cooperation and export. It was established in line with the Decree of the President of the Russian Federation "On national goals and strategic objectives of the development of the Russian Federation in the period up to 2024".
About Proton-Electrotex, JSC:
Proton-Electrotex is the Russian leader in designing and manufacturing power semiconductors including diodes, thyristors and IGBT modules as well as heatsinks, voltage suppressors, resistors and measurement equipment. The company is located in Orel city and ships its products through its partners and distributors all over the world. Please visit website www.proton-electrotex.com for more details about Proton-Electrotex and its offer of products and services.
For further information please contact:
Press contact at Proton-Electrotex
Tel.: +7 (4862) 44-04-56
E-Mail: marketing@proton-electrotex.com