Engineer of Proton-Electrotex has won the all-Russian competition "Engineer of the Year-2019"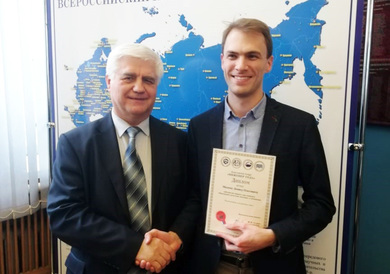 The all-Russian competition "Engineer of the Year" is recognized by the professional engineering community as a national skills reserve. The contest contributes to selection of the best engineers of our country among their peers. It is a skills excellence event, fostering achievements and experience, focusing attention on the problems of the elite engineers in Russia.
The award ceremony was held by the Russian and international unions of scientific and engineering public organizations with participation of the A.M. Prokhorov's Academy of the Engineering Sciences and the Interregional Fund for the Promotion of Scientific and Technological Progress.
Denis Malyy shares his emotions: "This award and my active professional growth became possible thanks to the Proton-Electrotex company and involvement in the key tasks of manufacturing IGBT modules. Previously 95% of IGBTs were imported to Russia from abroad. Acknowledgment of the results of my work inspires me to reach for further achievements".
Currently the main work of D. Malyy is aimed at training promising engineers, researching and developing new products.
This title awarded to one of Proton-Electrotex engineers once again confirms high professionalism and significance of the Company's scientific and technical potential.
About the Competition
The Russian national contest 'Engineer of the Year' is held annually since 2000 with the support of the Government of the Russian Federation. The contest is organized by public associations of professional engineers and scientists of Russia in two versions: 'Engineering of the Young' for participants under 30, and 'Professional Engineers' for participants with at least 5 years of engineering employment history.
About Proton-Electrotex, JSC:
Proton-Electrotex is the Russian leader in designing and manufacturing power semiconductors including diodes, thyristors and IGBT modules as well as heatsinks, voltage suppressors, resistors and measurement equipment. The company is located in Orel city and ships its products through its partners and distributors all over the world. Please visit website www.proton-electrotex.com for more details about Proton-Electrotex and its offer of products and services.
For further information please contact:
Press contact at Proton-Electrotex
Tel.: +7 (4862) 44-04-56
E-Mail: marketing@proton-electrotex.com