The Official Representative of Proton-Electrotex to Take Part in Electronica China 2021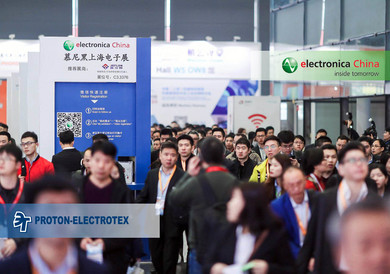 Asia is one of the top-priority regions for the strategic development of Proton-Electrotex. This is why Electronica China 2021 will be an excellent opportunity to showcase the latest releases and existing product lines for railroads, electric vehicles, renewable energy and traditional industries.
The Electronica China exhibition will be attended by the official representative of Proton-Electrotex in China, Shanghai QiCong Electronics Co., Ltd. Visitors will have an opportunity to talk to the company officials, discuss possibilities for cooperation and joint research, to get acquainted with samples of the current product line and the latest releases.
All official representatives of Proton-Electrotex are listed on the Representatives webpage.
This exhibition will feature many new products in the field of power semiconductor devices, measuring equipment, automotive industry, electromechanics and other industries. Agenda includes several business programs, conferences and industrial forums highlighting the latest market trends and features of modern technologies.
Detailed information about Electronica China is available on the official website of the event.
The representatives of Proton-Electrotex will be located in Hall 3, Booth 3870. You can schedule a meeting or ask any questions using a form on the Events Calendar page.
About Electronica China:
Electronica China is the largest electronics industry exhibition in Asia. The event showcases industrial trends including a wide range of parts and accessories, system solutions, hardware and software. 1,373 participants and 81,126 visitors attended the event in 2020.
About Proton-Electrotex, JSC:
Proton-Electrotex is the Russian leader in designing and manufacturing power semiconductors including diodes, thyristors and IGBT modules as well as heatsinks, voltage suppressors, resistors and measurement equipment. The company is located in Orel city and ships its products through its partners and distributors all over the world. Please visit website www.proton-electrotex.com for more details about Proton-Electrotex and its offer of products and services.
For further information please contact:
Press contact at Proton-Electrotex
Tel.: +7 (4862) 44-04-56
E-Mail: marketing@proton-electrotex.com