Electronica China 2020 with official representative of Proton-Electrotex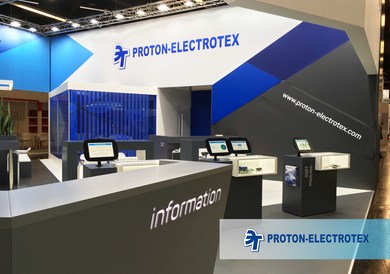 One of the largest exhibitions in the electronic industry Electronica China 2020 will take place once again in Shanghai, China, on July 3-5. This year it was originally planned for March 2020 but got postponed due to the COVID-19.
Asia was always one of the top-priority growth directions for the Proton-Electrotex company, and the Electronica China 2020 is an excellent opportunity to present the latest R&D projects and the existing product line for electric transport, renewable energy and traditional industries.
Shanghai QiCong Electronics Co., Ltd. – the official representative of Proton-Electrotex in China – will also participate in the Electronica China. All visitors will have an opportunity to talk to our experts and discuss cooperation and joint development.
This event will showcase latest technologies in automotive electronics, microelectronics, embedded electrical systems and other industries. The exhibition will also host business programs, conferences and a number of forums highlighting the latest market trends and current technologies.
You can find more information about our official dealers in special section.
You can find more information about exhibitions and schedule a meeting by our Event Calendar.
About ElectronicaChina:
The Electronica China is the world's leading exhibition and conference for power electronics and energy management. This is the place where representatives from the fields of research and industry come together. Some key facts about electronica China 2019: 1,586 exhibitors from 24 countries and regions, 92,695 professional visitors, 90,000 square-meter area.
About Proton-Electrotex, JSC:
Proton-Electrotex is the Russian leader in designing and manufacturing power semiconductors including diodes, thyristors and IGBT modules as well as heatsinks, voltage suppressors, resistors and measurement equipment. The company is located in Orel city and ships its products through its partners and distributors all over the world. Please visit website www.proton-electrotex.com for more details about Proton-Electrotex and its offer of products and services.
For further information please contact:
Press contact at Proton-Electrotex
Tel.: +7 (4862) 44-04-56
E-Mail: marketing@proton-electrotex.com