Electronica China 2020 with official representative of Proton-Electrotex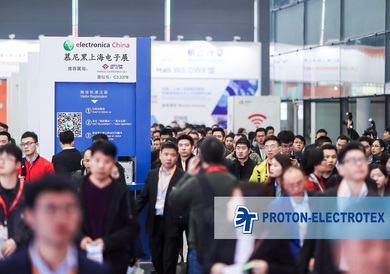 The official representative of Proton-Electrotex in China Shanghai QiCong Electronics Co., Ltd will take part in International Trade Fair for Electronic Components, Systems, Applications and Solutions Electronic China 2020.
Founded in 2002, Electronica China is now one of the leading platforms for innovative electronics manufacturing. In 2020 the exhibition will be held in Shanghai from 18th to 20th of March.
Strategy of Proton-Electrotex relies a lot on increasing sales in the Asian Region. China ranks first worldwide in industrial output. At the exhibition Proton-Electrotex will present its latest technologies and new products at the booth of China Shanghai QiCong Electronics Co., Ltd, as well as samples of existing portfolio already known to the customers.
Our partners from Shanghai QiCong Electronics Co., Ltd will be happy to provide information about our products and latest technologies to our clients and international colleagues.
If you need more information about forum or our products, please send your questions to email marketing@proton-electrotex.com
You can find more information about our official dealers here.
You can find more information about exhibitions and schedule a meeting here.
About ElectronicaChina:
The Electronica China is the world's leading exhibition and conference for power electronics and energy management. This is the place where representatives from the fields of research and industry come together. Some key facts about electronica China 2019: 1,586 exhibitors from 24 countries and regions, 92,695 professional visitors, 90,000 square-meter area.
About Proton-Electrotex, JSC:
Proton-Electrotex is the Russian leader in designing and manufacturing power semiconductors including diodes, thyristors and IGBT modules as well as heatsinks, voltage suppressors, resistors and measurement equipment. The company is located in Orel city and ships its products through its partners and distributors all over the world. Please visit website www.proton-electrotex.com for more details about Proton-Electrotex and its offer of products and services.
For further information please contact:
Press contact at Proton-Electrotex
Tel.: +7 (4862) 44-04-56
E-Mail: marketing@proton-electrotex.com