The Team of Proton-Electrotex Took Part in the Scientific Conference of the Radioelectronic Industry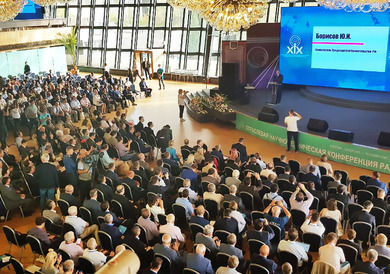 The XIX Industrial Scientific Conference of the Radioelectronic Industry was held from September 28 to October 3, 2020 in Yalta with the support of the Department of the Radioelectronic Industry included in the Russian Ministry of Industry and Trade.
The main goal of the annual Conference of the Radioelectronic Industry is to promote high-level communication between representatives of the Russian electronic industry and government agencies.
Technical Director of Proton-Electrotex Alexander Stavtsev attended the strategic session with his speech "Power semiconductor devices and converter technology. Investments and Markets". As he noted, power electronics in general and power semiconductor devices in particular have gone through a path of intensive development over the past few decades, making a huge impact on modern infrastructure. In particular, it made high-speed electric trains and renewable energy available for widespread daily use. Power electronics keeps evolving, and it has become a key technology in designing the transport of the future that is about to enter the modern era – electric cars, electric buses, electric river and sea transport, electric airplanes.
Alexander Stavtsev stressed the following points necessary for the development of the industry:
Strategy of the industry development is a priority of civil electronics;
Unification of the requirements of federal regulatory documents regarding the assignment of the "Made in Russia" status for domestic electronics;
Forming legal conditions for private investment in production facilities in Russia;
Updating state standards for power electronics;
Comprehensive work on the staffing issues in terms of training young specialists and scientists according the modern requirements of the industry;
State support of exports;
Creating an open platform to exchange the views between businesses and the state in order to develop the electronic industry.
Detailed information about the event can be found on the official website of the conference, while daily video reviews from the event are published at its Youtube channel.
The Proton-Electrotex company thanks the organizers of the conference for the opportunity to discuss current issues, express opinions and hold business meetings. The event was organized at the top level.
Presentation from the speech of Alexander Stavtsev at the Scientific Conference of the Radioelectronic Industry is available upon request at marketing@proton-electrotex.com.
About the conference:
The annual Industrial Scientific Conference of the Radioelectronic Industry is held by the Department of the Radioelectronic Industry of the Ministry of Industry and Trade of Russia in order to promote top-level communication of the leaders of the domestic electronic industry.
About Proton-Electrotex, JSC:
Proton-Electrotex is the Russian leader in designing and manufacturing power semiconductors including diodes, thyristors and IGBT modules as well as heatsinks, voltage suppressors, resistors and measurement equipment. The company is located in Orel city and ships its products through its partners and distributors all over the world. Please visit website www.proton-electrotex.com for more details about Proton-Electrotex and its offer of products and services.
For further information please contact:
Press contact at Proton-Electrotex
Tel.: +7 (4862) 44-04-56
E-Mail: marketing@proton-electrotex.com