Business training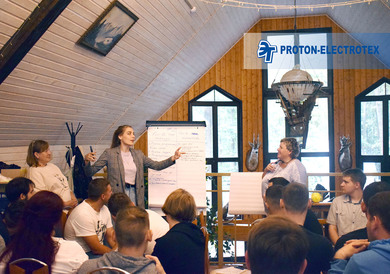 On the 19th of August Proton-Electrotex held a business training.
Corporate training programs give insights into various ways to improve internal and external work environments. They also provide managers with a better understanding of how to address organizational challenges in company.
This training course was aimed at developing emotional intelligence skills, promoting teamwork, multitasking and managing unexpected situations.
The event was well organized and held at a high level. We hope that participants of the seminar received answers to their questions, learned something new about Proton-Electrotex and their colleagues.
This training was a great opportunity for the skill enhancement and team building.
About Proton-Electrotex, JSC:
Proton-Electrotex is the Russian leader in designing and manufacturing power semiconductors including diodes, thyristors and IGBT modules as well as heatsinks, voltage suppressors, resistors and measurement equipment. The company is located in Orel city and ships its products through its partners and distributors all over the world. Please visit website www.proton-electrotex.com for more details about Proton-Electrotex and its offer of products and services.
For further information please contact:
Press contact at Proton-Electrotex
Tel.: +7 (4862) 44-04-56
E-Mail: marketing@proton-electrotex.com