The company obtained the Certificate of Laboratory Measurements Status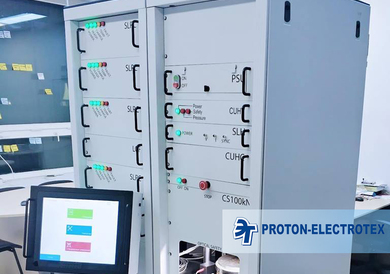 Laboratory of Proton-Electrotex has passed a certification confirming that the Semiconductor Testing Department meets all the conditions necessary to perform measurements and QA testing.

Such certification grants the company a right to provide third-parties with power semiconductors testing services based on the parameters and equipment listed in the Appendix to the Certificate.

Certification of Testing and Measuring Laboratories serves as an official confirmation of meeting all the conditions necessary to perform measurements:
• compliance of the measurements with requirements of the Russian legislation in the field of ensuring the uniformity of measurements;
• compliance of metrological support of measurements with modern requirements;
• competence in assuring compliance of test methods with regulatory requirements;
• sufficiency of the testing equipment of the company;
• qualifications of the Semiconductors Testing Department staff.

Having a certified laboratory allows for precise quality control at all stages of the production process as well as fast identification of any possible defects and inconsistencies.

Certification by the State Regional Center for Standardization, Metrology and Testing in the Oryol Region confirms the responsible approach to the manufacturing and demonstrates the excellent quality of the manufactured devices.

Please discuss requests for testing in the Proton-Electrotex laboratory by calling +7 (4862) 44-04-56.
About Proton-Electrotex, JSC:
Proton-Electrotex is the Russian leader in designing and manufacturing power semiconductors including diodes, thyristors and IGBT modules as well as heatsinks, voltage suppressors, resistors and measurement equipment. The company is located in Orel city and ships its products through its partners and distributors all over the world.
For further information please contact:
Press contact at Proton-Electrotex
Tel.: +7 (4862) 44-04-56
E-Mail: marketing@proton-electrotex.com