Drivers

The company "Proton-Electrotex" is successfully engaged in the development and production of One Channel Thyristor driver and Dual Channel IGBT Driver.
One Channel Thyristor driver
One channel Thyristor Driver by Proton-Electrotex is a single-channel thyristor driver designed to control thyristors with a voltage class up to 1.8 kV and current up to 5000 A.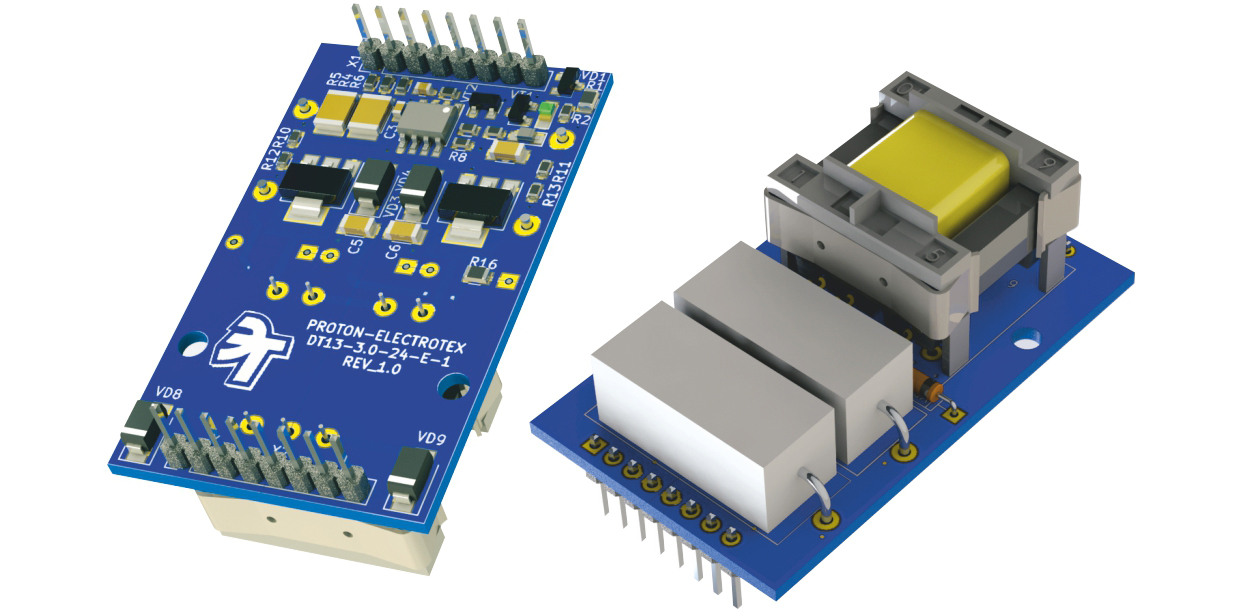 Features:
Single-channel thyristor driver
Can be soldered directly onto a printed circuit board
Isolation by transformer
Dielectric test voltage 3 kV AC
Made to drive thyristors up to 1.8 kV voltage class
Ultra-compact design 54x32x26 mm
High output impulse current 3 A
Typical application are thyristor switches, pulse discharge devices, soft starters for asynchronous motors, rectifiers.
Dual Channel IGBT Driver
Dual Channel IGBT Driver is a plug and play driver, designed especially for 34, 62 mm IGBT modules with voltage class up to 1.7 kV.

Features:
Dual Channel IGBT driver
Blocking voltage up to 1700 V
Peak gate current +/- 8A
Output gate voltage +15/-8 V
Interface 15 V logic level
Half bridge and separate mode
2 level and multi-level topologies
Dielectric test voltage 4 kV AC
Isolated DC/DC converter
Switching frequency up to 15 kHz
Short circuit protection with soft shut down
Supply under voltage protection
Compact design 93x60x25 mm
Typical applications are solar and wind power converters, uninterruptible power supplies (UPS), electric drive vehicles, railway, AC motor drivers, frequency converters, active rectifiers.